14th March- 30th April 2015- TADU CONTEMPORARY ART, Bangkok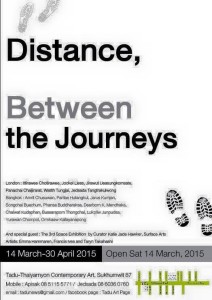 Artists: Ittirawee Chotirawee, Jockel Liess, Taryn Takahashi, Emma Hammarén, Francis ives
Panachai Chaljirirat, Watith Tungjai, Jesada Tangtrakulwong, Arnrit Chusuwan, Paritas Hatangkul, Jarus Kumjan, Songchai Buachum, Phansa Buddharaksa, Dearborn K. Mendhaka, Chaiwat Kudaphan, Bussaraporn Thongchai, Lukpliw Junpudsa, Yurawan Chompol, Ormkaew Kallayanapong
Curators: Katie Jade Hawker and Jim Sonjod
"Change" is an important step that affects things to come. The act of traveling brings about a change in the paradigm of people. This show presented works of art that result from ideas of travel and movement. Most of the artists have lived in different continents to their origins. This show is a presentation of ideas and the start of an ongoing exchange between Bangkok and London.
We also believe that the distance between the artists and their individual experiences will help to bring interesting exchanges and dialogues. We explore the relationships between them and the art works presented. The relationship of the people travelled or lived in the same places from different places and relationship of people living in different places from the same places.
Travel, distance, passages and journeys are at the core of this exhibition and future project. We see influences of travel, movement and displacement through the eyes of the artists. Travel and experience from around the world brought together into the same space in Bangkok. We listen to the narrative of travel across the globe over time and through conversation … at a distance.