AIR Retrospective show
Surface Arts + Rumpueng Art Space Artist in Resident Retrospective show
23-30 October 2015 at Rumpueng Art Space
Curated by Pitchaya Ngamcharoen
Artists include:
Mark Rafter, Laura Robertson, Jennifer Morrow, David Jacobs, John Bonafede, Ink Agop, Sebastien Durante, Melissa Metveyeff, Jan Hoek, Puck Verkade, Julie McCalden, Salome Tam, Margarita Angel, Andreas Hoffmann, Monika Weber, Matt Litwin, Jake Castro, María José Rodriguez Larrain, Sabina Wong, Rohan Wealleans, Ruth Taylor, Auke de Vries, Keh Hui Ng, Emily Berry, Saskia Burggraaf, Lee Lee, Boynton Yui, Kareen Hillenaar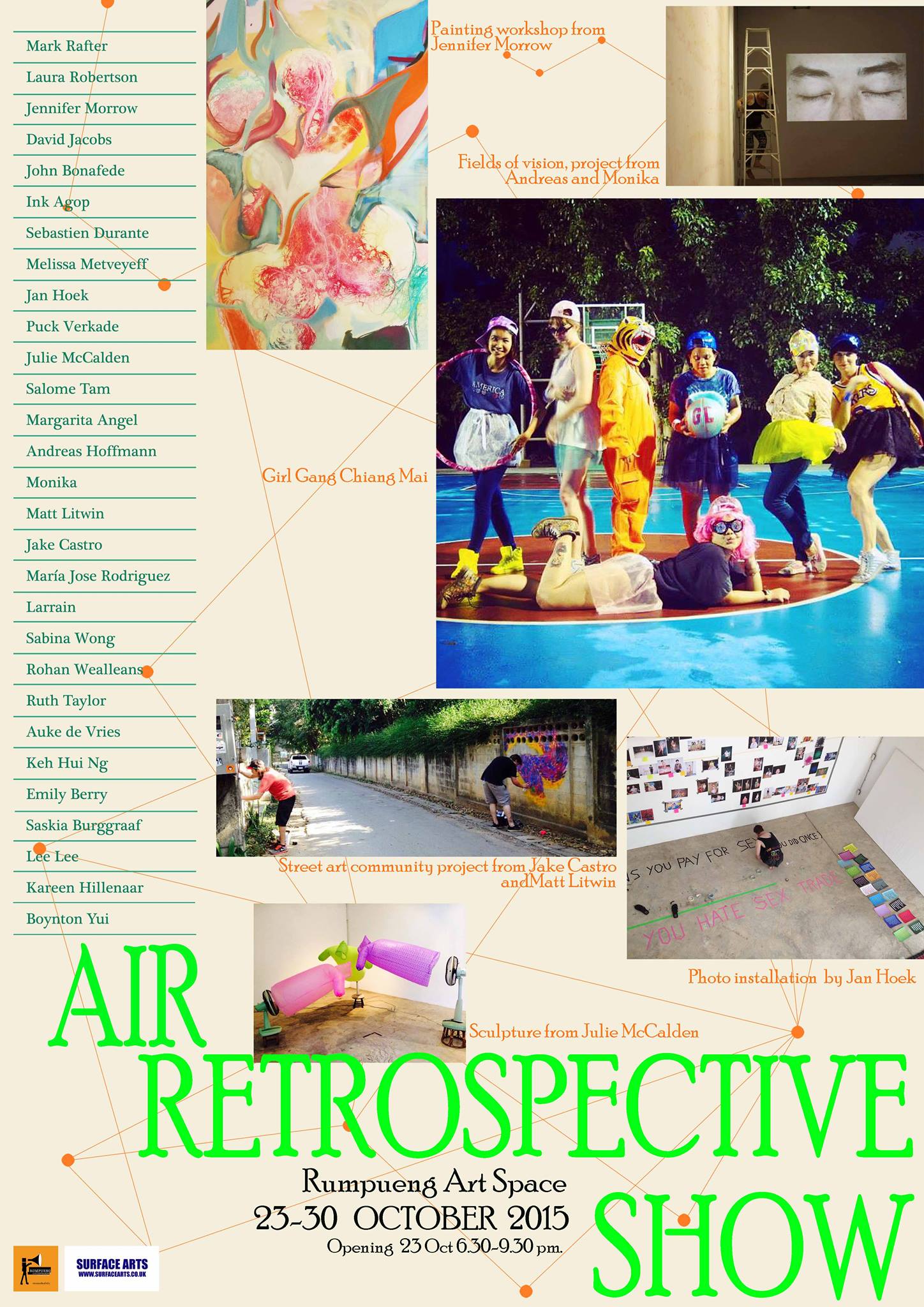 To mark the transition from our Chiang Mai resident artist space to our new Bangkok resident artist space we created an exhibition celebrating all of the wonderful Artists in Residence that came to work with us at Rumpueng Community Art Space.
This exhibition takes a look back on our three year old residency, where Surface Arts and Rumpueng Art Space had host 24 artist from around the world. These artist came to develop their practices, share their skills and ideas through many contributive and collaborative projects. These projects gave both participants and artists a wealth of experience in every aspect of cultural diversity, and production from practicing skills to developing idea. This exhibition will be showing the process of their past projects and the outcome as an art piece.
Information about our new Bangkok residency can be found here http://surfacearts.co.uk/hof-surface-residency-bangkok/
Gallery Area
Chevy, recycling plastic, 2015
An collaborative ongoing project between Lee Lee and kids from Stratton ABC Foundation Cm.310
Warrior Spirit, rose from the Stratton ABC Foundation re-cycle store and empowered the children to give him form so he could help send a warning of the dangers of plastic waste in our environment.
Construction completely out of waste plastic cans and paper his skin was made of plastic sheet made from fusing plastic bags with an iron, those sheets were in turn ironed onto the body structure.
VALUE ADDED , Video 15 min 48, 2015
Saskia Burggraaf
During the residency she made a sequel on her video VALUE ADDED. Trough almost
commercial looking (infomercial or documentary style) images and voice over, personal
stories are being told. The contrast between commercial (form) and alternative (content)
makes the spectator wonder about what is true or not. The video is showing small
elements of this alternative society, but also on a larger scale how personal value can
change in different circumstances. The personal becomes political.
Untitled, Screen print, 2015
Untitled, photography, 2015
Rohan Wealleans
These works are a part of exhibition HOLE FILLER 5000 at Pongnoi Community Art Space, which presented brand new works produced during his three months in Chiang Mai.
The exhibition brought together themes of alien woman, language, holes, painting, dream catchers and hippie commerce. The work endeavoured to create new cultures and worlds. Wealleans acted as half alien and half hippie, drawing a fine line between painting and sculpture, incorporating both "cultures" to make new hybrids.
Laura Robertson
Immersing herself in Chiang Mai's culture and art scene Laura's work and ideas have been evolving over the residency and influenced by her experiences during her stay.
A chosen subject has been identity recognition. Laura has difficulty identifying faces as well as remembering names. This can make even her most frequent social situations become alien.
She is presently working on an interactive performance piece that explores this condition whilst living in a foreign land where not only the faces are new. She is also devising work that looks at female strength and assertion, searching for symbols of affirmation for sexuality, desire and strength in different cultures.
Untitled, Mixed media, 2013
Mark Rafter
Mark is an artist and illustrator, who has worked as designer and art director in children's TV for many years with over 12 years experience in animation, film & TV. During his residency he produced an interactive, time based drawing and multi-media animation project inspired by 'street life' in Chiang Mai. He explored the notion of street life by inviting participants to document the vibrancy of the city through drawing, photography, digital media and 3D modelling which he then animated.
Untitled, acrylic on canvas, 2013
Jennifer Morrow
Morrow's paintings consider preconceptions of abstraction, using the properties that paint holds to demonstrate her yearning to visualize emotion in an abstract and intuitive manner. Concentrating on exploring the limitations of paint, inks and dyes has made her produce interesting paintings.
Her work in the gallery played with abstraction which paint creates within its own limitations and tested the boundaries of the audience in viewing these pieces of work. She manipulated the viewing experience by physically rotating the canvases within the space.
Ajarn Tu, pen on paper, 2014
Maria Jose Rodriguez Larrain
Maria Jose Rodriguez Larrain is a painter from Peru. She is also an explorer. After graduating from Business studies and being employed two years at a family enterprise, she decided to listen to her interior voice, put a break and change course, to pursue her artistic dreams.
She believes that each of us is a soul that travels. Our body may fade but our soul is always alive. Art is a magic window that allows our inner worlds to connect.
Her travels and residency resulted in a solo show at Rumpueng entitled Connecting Souls intended as a map and exploration of the places, people and souls she had encountered.
Untitled, spray paint on canvas, 2014
Jake Castro
Jake Castro is a street artist from US. He was one half of an artist duo with Matt Litwin but also produced solo projects during the residency. Throughout his stay in Chiang Mai he produced multiple murals with various community groups, foundations, local businesses and collaborated with many local artists.
Burnese- – transformation, 3D photograph, 2015
Andreas Hoffman and Monika Weber
"Burnese- – transformation" is an art work of 50 single pictures in 3 D Lenticular technology, on the base of photografic works. If the observer is moving the shape of the picture is changing. The movement is the base for changing. Drawings, created by the nature at the sea of Birma, always changing and new creating, are for me like a symbol for the wish of Burmanese people to change their reality of life.
Bons de réductions/Discounting vouchers, Vidéo 4 min 35/ cadre comportant 10 bons – 2015
Sébastien Duranté
This video shows me roaming in the Brussels art fair distributing discount vouchers to the people who I meet. Every coupon pre­sents a gallery which proposes a sales offer. It is well a question of forgery. I chose to present ten galleries of the fair. For each I realized about forty vouchers among which thirty were distributed. 300 vouchers are numbered and signed on the back. Next to the video is hung a frame with inside ten vouchers, one of every gallery.
Spirit Of The Land, sound, 2014
Margarita Angel
Inspired by the representations of the spiritual world, the colors and iconography here in Thailand she wanted to identify the presence of something concealed, things we rarely see but are out there, around us. The sounds submitted by the artists were collated into a full sound scape by Margarita and installed as a sound installation in the environment of Rumpueng Art Space.
Memories, acrylic on canvas, 2015
Boynton Yui
In the past few years, I have travel to difference cities and try to explore the ideas in there. And in result, it makes me outcome a really personal visual diary to record my "Memories". It express my feeling in love, sex, pressure, anxious, happiness, sunset, nightmare, alcohol, headache etc. And I hope to spend 1-2 months
Sabine Wong
Accept the chaos of things,
Go with the way life offers itself to you.
Struggle as you wish, for in the end nothing really matters.
Perfect at coming, perfect when going.
Like the light of day shatters all the shade,
you will emerge into the dawn of life.
Cuts and bruises heal instantly
as the body is but a dream.
All dissolves into wispy smoke,
as we awaken at the Nightingales chirp
Discover the music in the city,
organic jazzy structures
crisscrossing across the pavement,
bellowing in the weeping of leafy trees.
Accepting the night and the day,
the black and white, the silence
and the songs.
Dance in the middle,
without a soul to tell,
screaming out loud.
Music speaks louder than words
Untitled, 10 scarfs, 2015
Kareen Hillenaar
Kareen is a New Zealand based creative developing a process of cross cultural collaborative practice. The format for such is series of silk scarves.
Usually highly embellished and color laden, this work departs to test and examine possibilities of bodies of fabric responding to light and movement -in a sense performing. The outcome will inform future methods of presentation with more complex contributions.
Debris, printed pallets, 2015
Lee Lee
'Debris' is a collaborative project which is being created as a response to the problems presented by single use plastic. The work reflects the literal problem of plastic in marine environments while offering a symbolic representation of the chemical body burdens carried by wildlife and humans alike. In presenting these issues, we are asked to consider misplaced notions of "disposability", calling in to question consumer driven waste which has devalued what is in fact a very important material.
Da Agony Of Da Feet, comic books, 2013
John Bonafede
John's interests lie in themes of transience, systems theory and Buddhism which have dominated his mediums drawing him to performance art, video art, painting, printmaking, and installation.
While studying printmaking John discovered the new medium of chemography, which he often uses to make street prints, whilst his performance driven video art searches for new ways to make line, form, and composition by using time, the body and other fleeting materials.
Jan Hoek
Hoek's focus on the residency followed time spent researching Thailand's sex industry in Pattaya City. By building relationships through his photography and using it as a tool to break down barriers and give him a way to connect with the sex workers without being a customer he built a large a body of work. As well as documenting the sex workers in their own environments, he also took Nancy for a day out at 'Ripley Believe it Or Not' and tested out ideas for street statue based performance as an alternative income for the workers.
Tower Of Randomness, animation, 2015
What The Phant, animation, 2015
Animation Workshop, animation, 2015
Auke de Vries and Ruth Taylor
Both artists worked on their own film project during their travels. Ruth is worked on a short animated film called 'The Cliffs' about little hawks in a bird's nest that get attacked by lizard. The hawks are based on the real one's she and Auke saw in New-Zealand and the lizard was inspired on a real lizard in Thailand.
Auke has been working on a film with 'reincarnation' as its main theme. The protagonist, who lives in India, dies and reincarnates as a bird. But he would rather be a cow, so he tries to keep reincarnating by killing himself time and time again until he becomes one.  Both animators hope to see their short films screened in film festivals soon.
Video Works

Losing Present, Video 22 min 01, 2014
Puck Verkade
Verkade immersed herself in an unknown situation in order to research and gather material for her latest project 'Losing Presence'- an exploration of the concept of death, using her own mothers death as a starting point. Verkade uses her own vulnerability as a tool to get to the core of the subject from an insider's perspective. Whilst in Chiang Mai she set about researching what death means here, through the Buddhist backgrounds, visiting temples and gaining teachings from monks and also from personal experiences of the people living she met here. The exploration and investigative process becomes visible in the work and reveals dialogues and personal doubts in a very direct manner. Verkade works following a system of observing, infiltrating, communicating and finally manipulating to create a work that should be unnerving and luring at the same time.
Untitled, video 5min 38, 2013
Ink Agop
Her inspiration for the content of the film was 神道 Shinto: The indigenous spirituality of Japan and the people of Japan. She constructed a multi-gendered character, in-between female and male, human and animal, real modern society and spiritual world and shot a performance video embodying this character. This was projected onto the turning object.
Running Sheet, video 4 min 17, 2014
Melissa Metveyeff
During the residency, as well as creating studio based installations she developed a character based on a trophy depicting a female runner. She change the form, erring towards the ridiculous, by adding a shimmery red dunces hat. This character was the focus and drive for many pieces she created during her residency.
Girl Gang, video 4 min 13, 2014
Julie McCalden
McCalden introduced the work of her performance group 'Girl Gang' who investigate a range strategies for moving through the social and built environment, delighting in taking up space and reinterpreting the lay of the land in order to gain economic freedom, mobility and social space. This sparked an opportunity for collaboration and to start 'Gang Gang' in Chiang Mai.
Samuri Motorcycle Gang , video 15 min 01, 2015
Keh Hui
His practice is concerned with stories that people remember, recount and re-interpret over time. Why do people re-tell stories? Is it a metaphor for something else we are trying to say? Could it be a moral allegory? Or perhaps a humourous reinterpretation? Or is there simply an instinctive need programmed within us to share the things that we are connected to?During his time on the Surface Arts + Rumpueng Residency Program he investigated     through film and collaboration the myth of the Samuri Motorcycle Gang.
Outdoor area
Local Mural, spray paint, 2015
Jake Castro and Matt Litwin
Jake and Matt organized a collaborative project with the local community and local street artist. They set out to design a mural for the wall opposite Rumpueng Community Art Space, organized a meeting with the village leader and the local community to find out what people wanted to see and what they though best represented their local village. Many ideas arose and this list of ideas was translated and given to the artists to inspire their work. Some artists chose to do solo panels of the wall others decided to collaborate and cross over into each other's pieces.