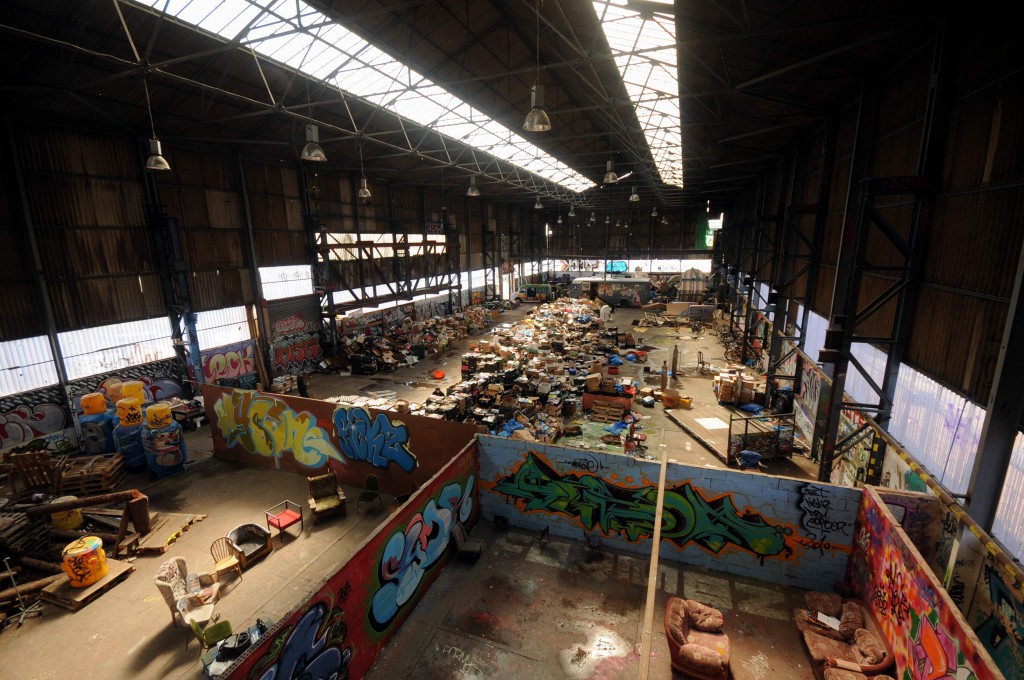 DIY EXHIBITION
Saturday 18th September – Saturday 16th October 2010
Surface Arts worked in partnership with Book Cycle and EVA Studios to develop this exhibition in an industrial warehouse, under the theme of 'DIY'. This formed a way to engage with alternative spaces to develop artistic practice outside of the 'White Cube' .
Surface Arts invited artists to Exeter to take part in a residency in order to respond to this dilapidated building. The artists' interactions with the warehouse, both its materials and the space were used to create 'site- specific' pieces. The numerous art works, involving multiple disciplines took over the entirety of the warehouse and were intrinsic to the site.
DIY served as an inquiry into artist-led movements within this time of financial instability and generated an alternative monetary system through 'in kind ' sponsorship to meet the needs of the project. It presented the creative benefits and alternative ways to 'make' and 'do'.
The artists were: Adam Garrett, Chiara Gill, Hanna Downing, James Burgess, Jessica Mautner, Jo Willoughby, Julie McCalden, Mark Houghton, Megan Hoggins, Michele Louise Schiocchet and Sarah Farmer. The additional collaborators were: Dave Holder, Francis Ives and Alex Saunders.
http://artsculture.newsandmediarepublic.org/2010/09/25/outside-the-white-cube-surface-arts-diy-exhibition-engages-with-alternative-spaces/
Facebook group:
http://www.facebook.com/home.php?#!/group.php?gid=145622408803230&ref=ts
Artists websites:
http://www.markhoughton.org
http://www.meganhoggins.co.uk/threeb.dwt
http://www.sarahmfarmer.co.uk
http://www.micalou.org
http://www.bird272.com
http://www.chiaragill.com
http://jowilloughby.madethroughprocess.com
http://www.juliemccalden.co.uk
http://www.mixedfibres.wordpress.com