AUGUST 2014
JULIE MCCALDEN (UK)

Installation/Performance/Sculpture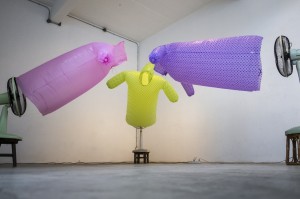 Julie McCalden is an artist based at Spike Island in Bristol, UK. Manifesting in a variety of forms, from performative actions to sculptural installations, all McCalden's works share a subtle political undertone. Scale (large, miniature and life-size) is frequently used as a device to puncture a works context and challenge viewer expectations.
McCalden's art practice responds to location, sense of place and culture. Throughout her residency she developed large scale installations and test pieces, responding to the sites and materials she was drawn to in Thailand. Inspired by the sheer quantity, overload and piles of 'stuff' at the locals markets as well as the vibrancy and chaos. Colourful plastics were reoccurring materials in these works and reflected the usage and distribution of plastics that McCalden witnessed here.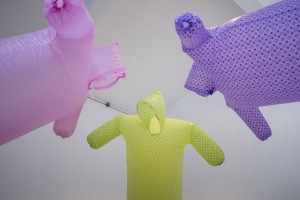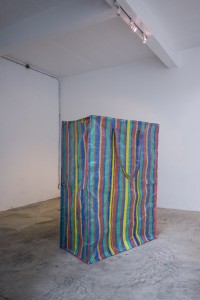 McCalden hosted an event called 'Mad Hatter's Tea Party' which focused on building positive relationships with the community through sharing a buffet of British specialties  with local artists and students. She also introduced herself and her work in an artist presentation. This began her process into potential collaborations.
At the event McCalden introduced the work of her performance group 'Girl Gang' who investigate a range strategies for moving through the social and built environment, delighting in taking up space and reinterpreting the lay of the land in order to gain economic freedom, mobility and social space. This sparked an opportunity for collaboration and to start 'Gang Gang' in Chiang Mai.
Girl Gang Chiang Mai #2 How to ride an escalator like a rainbow
http://www.juliemccalden.co.uk/
http://www.girlgang.net/